Since 1984, the NBA has welcomed more than 30 players from Africa. But only one has been named the NBA Ambassador to Africa, a legend who will play a prominent role in the development of basketball on the continent.
That would be Hall of Famer Hakeem Olajuwon, who the NBA appointed to the position this week. Olajuwon, a native of Nigeria, will represent the league through basketball development events and NBA Cares activities across the region to help grow the game, assist communities in need and bring attention to diplomacy through the sport.
Olajuwon's role is just the latest push in the NBA's effort to expand its presence on the continent. This season saw a new partnership between the league and the African sports network SuperSport, which aired up to three live games per week in 47 territories throughout sub-Saharan Africa.
There are also plans for building on the most visible NBA initiative in Africa, Basketball Without Borders, which will return to Johannesburg this summer for the 12th time. BWB Africa, which will showcase the top 60 African players born in 1997 or 1998 from more than 20 African countries, is slated to see Dikembe Mutombo, Andrei Kirilenko and Thabo Sefolosha among a group of NBA figures assisting Olajuwon with the grassroots efforts.
Speaking with Bleacher Report, Olajuwon—who's also a player mentor with the Houston Rockets, private coach to NBA stars and real estate mogul—shared his thoughts on Africa's basketball evolution. But first, the conversation started with the ongoing playoffs.
B/R: What are your thoughts in watching the conference finals?
Hakeem Olajuwon: You have to give San Antonio a lot of credit with that system because every year it plays great basketball. Oklahoma City needs [Serge] Ibaka. I don't see how they can pull through without him. He changes the game—his intimidation and [how] he impacts the game so much.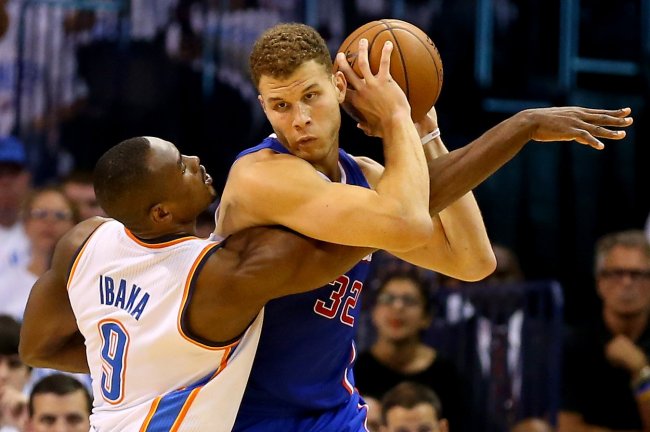 Ronald Martinez/Getty Images

Without Ibaka, San Antonio controls that series, so I can see San Antonio in the Finals out of the West. In the East, Miami is still the champion. I think Indiana has a better chance this year, but Miami has the experience and it's going to win that series. I believe that San Antonio is going to win this year. But you never know—Miami could pull through again.
B/R: You had some of the best footwork in NBA history. What do you notice about that craft, and others, with today's big men?
HO: In basketball, traditionally the moves of big men are always unique. People are saying, "The game is moving away from the big guy." Well, that's not true. It's because there's a lack of big men that are really mobile. There are a few guys right now that are mobile. I see Dwight [Howard], Anthony Davis—he's a shot-blocker and also he's very skilled. He plays more like a forward. He has a nice little jump hook.
There are big men that can really make other teams adjust. They bring intimidation, control of the game, blocked shots, rebounding, scoring. They're game-changers—for example, DeAndre Jordan. He's a shot-blocker, but with an improving post game, imagine what he could do for that team. A lot of players like that are so talented, but they need that push to develop skills to make more of an impact for their teams and make it easier for their teammates.
B/R: You mentioned Dwight Howard. What was it like to work with him this season, and what's the next step in his game?
HO: It was great working with Dwight. He's very talented, very strong, very skilled; he has developing post moves. What I notice more about him is his confidence—he wants the ball, he really moves without hesitation, his defense is much better. But I think next season he has to add a jump shot to his game that will open up many different opportunities to take easy shots. He can shoot it, but now he has to have that confidence to take that shot. If he can do that, I think it will make him more dangerous.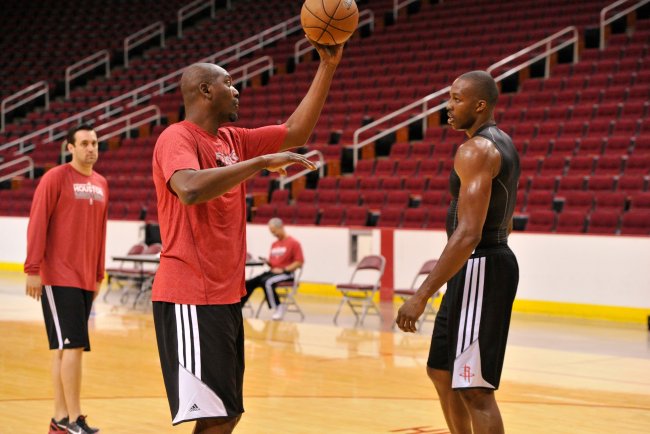 Bill Baptist/Getty Images

B/R: What does it mean to you to be named the NBA Ambassador to Africa?
HO: It's a great calling for me. It's something that's a very natural role, and I'm just so happy. The NBA is making huge strides with Africa and its future to promote and develop basketball with youth programs, to help young players, to give out scholarships to high schools and colleges in the U.S. and help them become professionals. You've got to create that platform to develop talent in African basketball.
B/R: What has impressed you about the growth of hoops in Africa?
HO: The passion has always been there. Basketball is a very easy sell because the game itself is exciting, it's entertaining, it's a cool sport and it's an American sport. So the love for basketball is there. We are building more awareness and bringing the African players who have played in the U.S. back [to Africa], and also bringing some American players to be part of the African development.
There are also college coaches and high school coaches who are looking for players on the global level, looking to Africa for opportunity. So I like it. Africa has huge future potential to produce a lot of great talent. The opportunities are wide open, and I'm very happy to be part of it.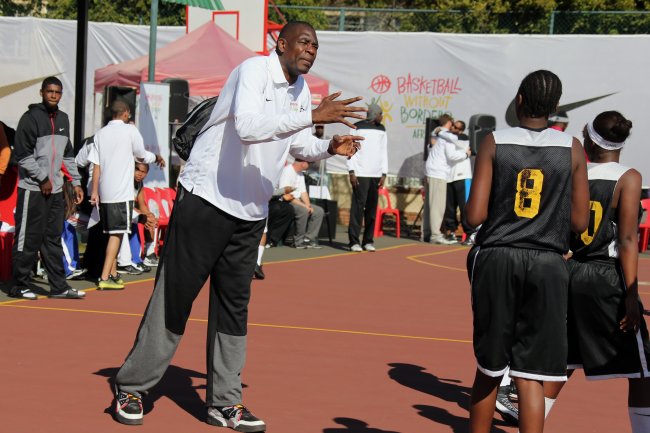 Nathaniel S. Butler/Getty Images

B/R: When you see fellow African players such as Serge Ibaka and Dikembe Mutombo, what's special about that connection that you'd like to get across to the youth in Africa?
HO: One is following the other. It was me, then Dikembe and then Ibaka. That concept of somebody being ahead of you [offers] a big inspiration to lead [on your own] and the hope that you can do it, so that's a connection between all of us. Now, as I look to Africa I see that we still have a lot of talent that hasn't been developed.
B/R: The NBA has seen major growth in China, and the league has its sights set on Africa and India. How do you foresee Africa as an emerging market for the league?
HO: Africa is huge. First of all, soccer is No. 1 over all the other sports in Africa. Then you see track and field, volleyball, basketball. The popularity of basketball is a huge accomplishment. Basketball is far more entertaining than other sports. So [one day] it will be soccer then basketball—that's the goal. You say it's an emerging market, and there are a lot of huge corporations—from the oil industry to different products—so that's why there's a lot of corporate sponsor support. So Africa is not poor. Africa is a huge market for the NBA.
Jared Zwerling covers the NBA for Bleacher Report. Follow him on Twitter and Instagram.
Hakeem Keeping Africa's NBA Dream Alive – Bleacher Report