(CNN) — Travelers are getting back on the move Wednesday, a day after heavy snowfall caused cancellations and delays across much of northern Europe.
Eurostar, the high-speed passenger rail service that connects London, Paris, Brussels and other cities, resumed a limited schedule on Wednesday.
Journey times will be about two hours longer than usual on the trains that are running, the company said.
"Disruption on the high-speed line continues, and we anticipate speed restrictions remaining in place throughout the day," a statement on its website said.
Eurostar has urged passengers not to travel Wednesday unless their journey is essential, saying they can request an exchange or refund.
Eurostar services on Thursday will also be affected by continuing freezing conditions, the company said. Eight trains are already canceled, while others may take up to an hour longer than usual to reach their destination.
Almost all Eurostar services were canceled Tuesday because of snow, ice and high winds, affecting around 10,000 passengers.
French train operator SNCF said it had put up more than 1,000 customers in hotel rooms near train stations overnight and had made sleeper cabins available on some trains.
Motorists in northern France have also been badly affected by the snow and black ice, including many in the capital, Paris.
"The situation is particularly difficult at the moment with so many trucks stuck on the road, we must respect that this is the information we have and it is not easy," French Interior Minister Manuel Valls told BFM-TV.
"We are working very hard to relieve the situation and to help the people who are currently stuck."
Some 2,000 stranded motorists had to be given shelter overnight, an Interior Ministry statement said. Emergency workers have given food and drink to others who chose to stay in their vehicles.
Nearly 34,700 homes in northern France were without electricity on Wednesday, down from 80,000 as of Tuesday evening, the ministry said.
Flights backlog
All four runways are in operation Wednesday at Germany's Frankfurt Airport — a major European hub — but about 100 flights will be canceled over the course of the day.
The situation is easing but the backlog of canceled flights has to be reduced, spokesman Dieter Hulick told CNN.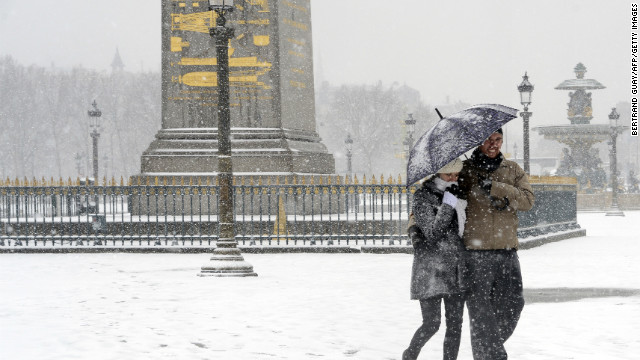 A couple walk on a snowy sidewalk on Place de la Concorde in Paris, on March 12, during a heavy snow storm. Twenty-six regions in northwest and northern France were put on orange alert because of heavy snowfall.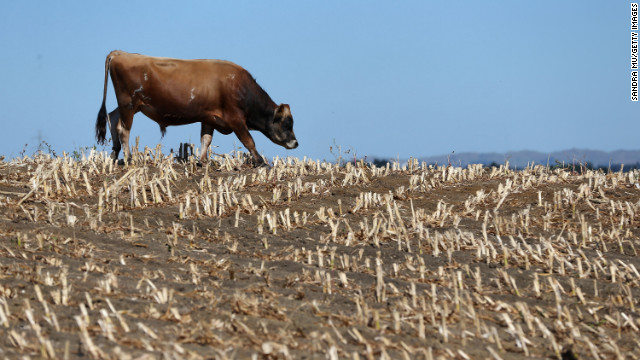 Cows search for edible grass in drought-stricken paddocks on March 12, in Waiuku, New Zealand. Drought was declared in several North Island areas last week including South Auckland, Northland, Bay of Plenty and Waikato.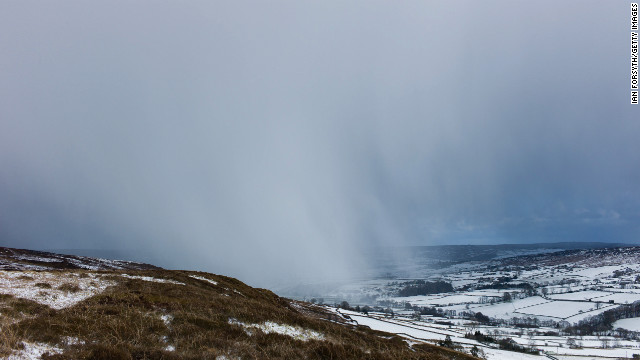 Brief but heavy snow storms move across the Yorkshire moors on Monday, March 11, in the United Kingdom. View more weather images from around the world.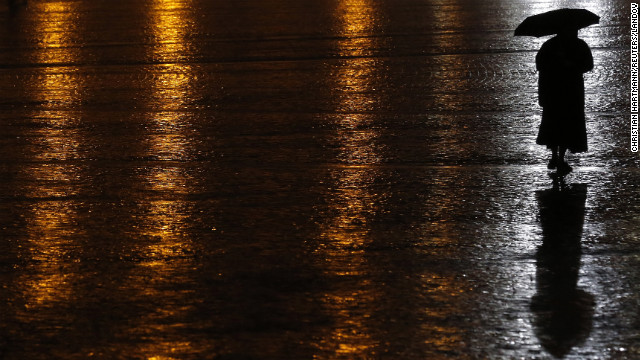 A nun walks through the rain under an umbrella as she makes her way through Saint Peter's Square at the Vatican on Sunday, March 10.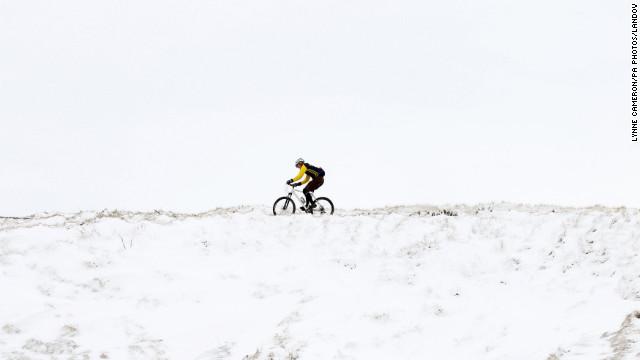 A cyclist makes his way along a snowy track near Ladmanlow, United Kingdom, on March 10 as a return of freezing temperatures and snow delay springtime weather for Great Britain.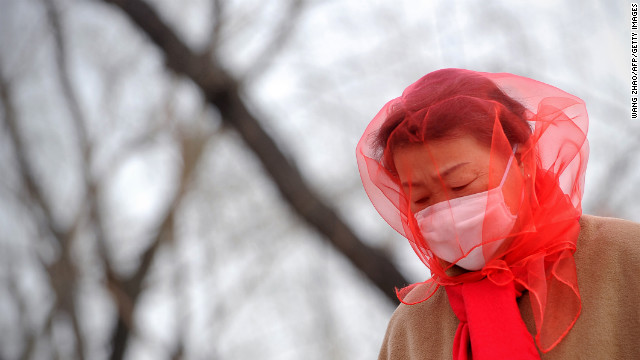 A Chinese woman covers her head with a scarf as she walks near Tiananmen Square in Beijing on Saturday, March 9, as strong winds and dust storms swept the Chinese capital.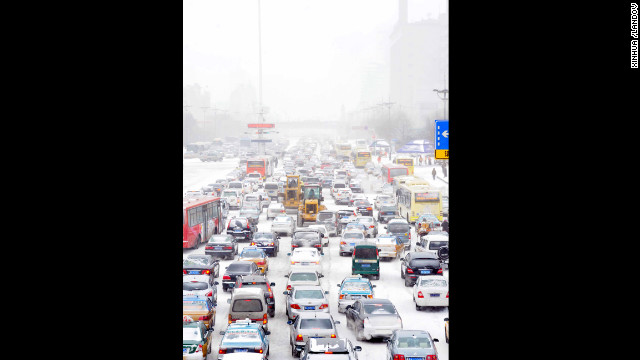 Drivers contend with a snow-covered street in Harbin, capital of northeast China's Heilongjiang Province, on March 9.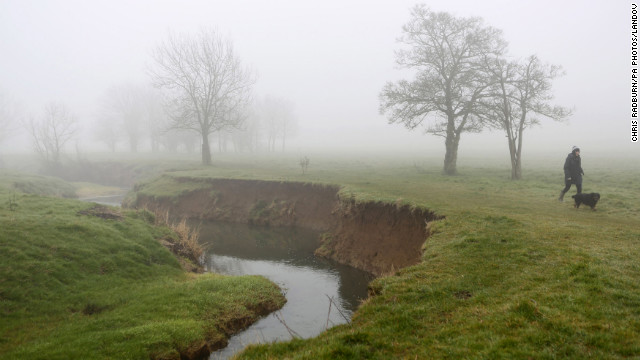 Fog shrouds a dog and its owner as they walk beside Bourne Brook, in Toft Cambridgeshire, United Kingdom, on Friday, March 8.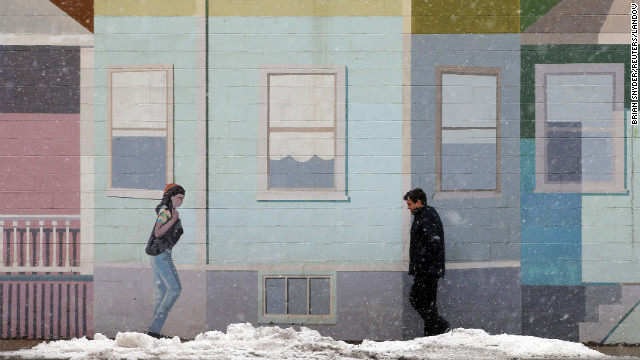 A pedestrian walks past a mural at the beginning of a winter storm in Somerville, Massachusetts, on Thursday, March 7.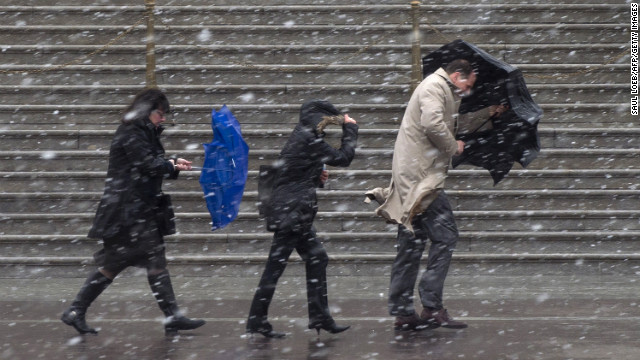 People walk as snow falls at the U.S. Capitol in Washington on Wednesday, March 6.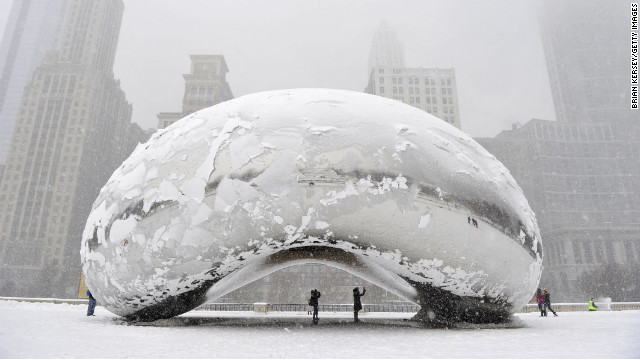 People stand under the snow-covered "Cloud Gate" sculpture, commonly known as "the bean," on Tuesday, March 5, in Chicago, Illinois.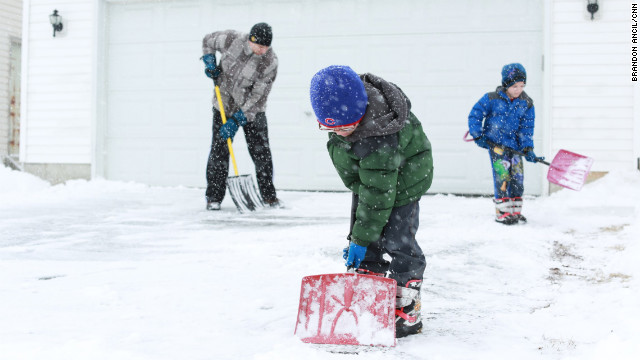 Left to right: Anthony Jordan and his 6-year-old twin sons Griffin and Landin shovel their driveway in Sycamore, Illinois, on March 5.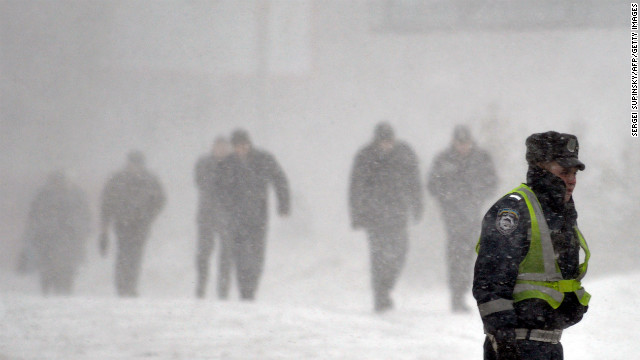 A traffic police officer patrols during heavy wind and snowfall in Kiev, Ukraine, on March 4.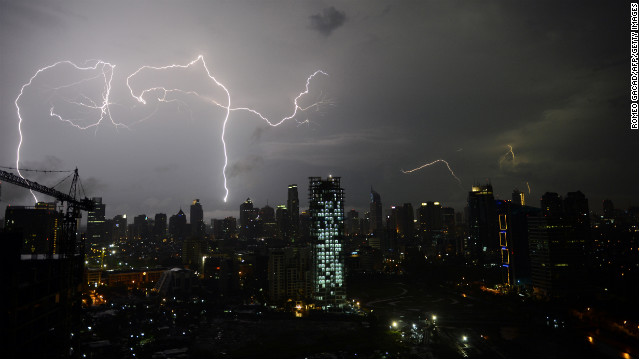 Lightning strikes over Jakarta's skyline late on March 3 during monsoon rains.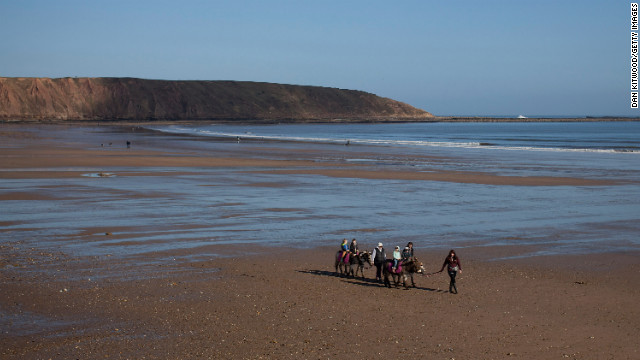 Tourists enjoy donkey rides on Filey Beach on March 2 in Filey, England.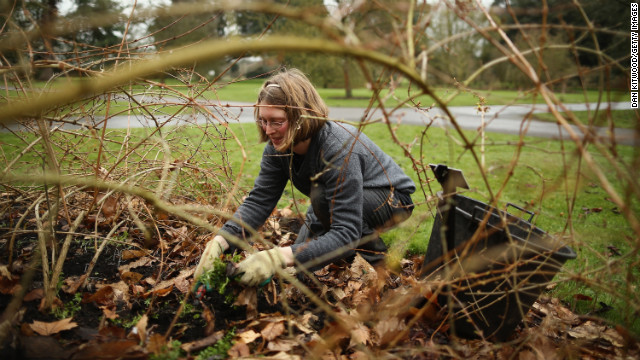 Gardener Ruth Calder clears weeds and dead leaves at Kew Gardens on March 1 in Kew, England.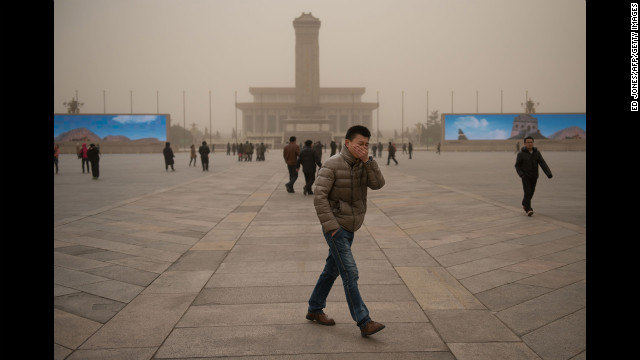 A man covers his face as he walks around Tiananmen Square during a sand storm in heavily polluted weather in Beijing on February 28.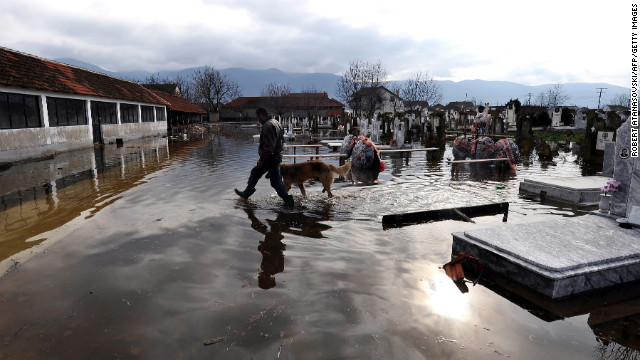 A man and a dog cross the flooded graveyard in the village of Monospitovo, Macedonia, on February 27. Torrential rains poured down on the Strumica Valley, destroying or damaging crops and households.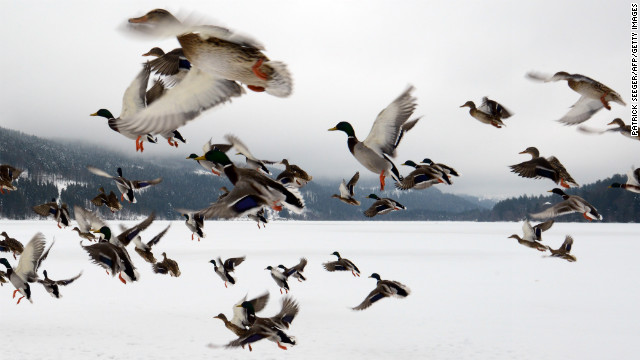 Ducks fly over the frozen Titisee Lake in Titisee-Neustadt, Germany, on February 27.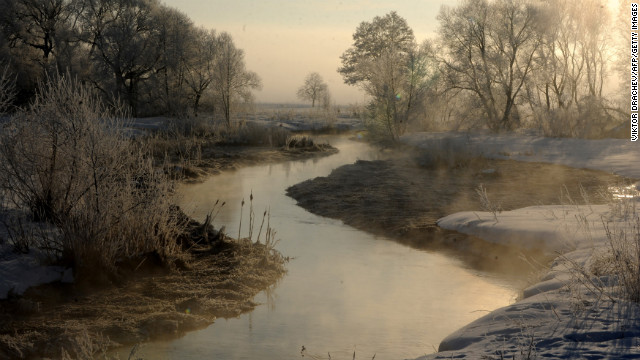 Frost-covered plants are seen on banks of the Usiazha River near the Belarus village of Usiazha, on February 26.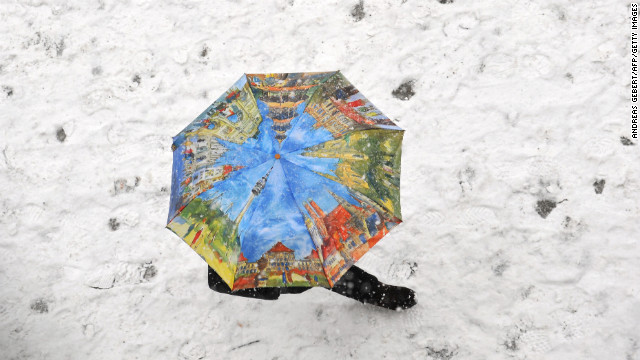 A person walks through the snow at Marienplatz in Munich, Germany, on February 26.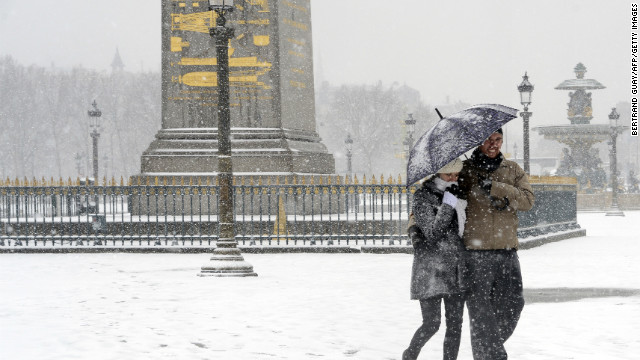 Photos: Weather around the world
The airport canceled 800 of a total 1,238 flights on Tuesday as it grappled with heavy, drifting snow that closed all four runways for several hours.
Cots were put up in the airport overnight for stranded passengers, Hulick said.
Travel was also disrupted by heavy snowfall in Moscow on Wednesday morning, with some flights delayed and roads gridlocked.
Worse weather is forecast for the Russian capital in the coming days.
Gusting wind
Late-winter blasts like these are nothing new for central Europe, according to CNN meteorologist Brandon Miller.
In fact, Germany refers to it as Marzwinter, or "March winter," Miller said. The phenomenon occurs in mid-March when, after a period of spring-like warmth early in the month that often coaxes trees and flowers to begin to bloom, cold northerly winds bring mid-winter type weather back to the country.
True to form, last week there were seven consecutive days of above-average temperatures in Frankfurt.
The mercury peaked Saturday with a high of 17 degrees Celsius (about 62 degrees Fahrenheit), the kind of temperature usually expected in mid-May. On Tuesday, however, winter returned with a vengeance, dropping 12 centimeters (4.7 inches) of snow on the city by noon.
In addition to the snow, winds have gusted to 50 and 60 kph (31 to 37 mph), creating whiteout conditions and making travel even more difficult.
Northern France took the brunt of the storm, with some locations seeing up to 40 centimeters (nearly 16 inches) of snow. Gusty winds have created snow drifts a meter deep or more in places.
CNN's Alla Eshchenko contributed to this report.
Wintry weather disrupts European travel – CNN International